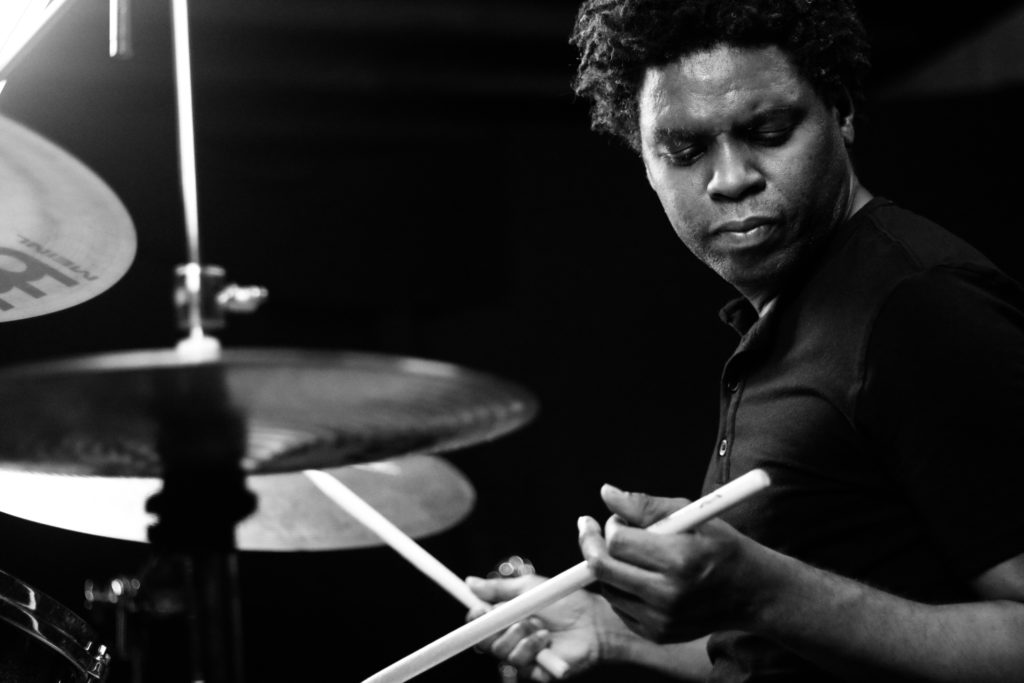 Rodney Holmes was born in the Bronx in New York City. It was apparent early on that he had a gift for drawing, and later on painting. And this went hand and hand with his fascination with science fiction and fantasy art, books and films. Rodney assumed that he would grow up to become an illustrator and writer of graphic novels and comic books. Even his early art teachers wanted him to attend an art school for gifted children, but his mother decided not to force him in one direction so early. She wanted Rodney to make that decision for himself when he was old enough.
Surrounded by a very eclectic album collection, he fell in love with music as well. Rodney was always fascinated with bands and particularly the rhythm section. The drums were especially intriguing to him. After he joined the junior band in his elementary school while in the fourth grade, his mother bought him a small four-piece drum kit for Christmas. At that point, Rodney was listening playing along to albums from artists like Earth Wind and Fire, The Ohio Players and Parliament Funkadelic. He would also play along with albums from his mother's record collection- artists such as Sam Cooke, Otis Redding, James Brown and Chuck Berry. He would later listen to and play along with recordings of Miles Davis, Max Roach, Tony Williams, Led Zepplin, The Police, Rush, Jimi Hendrix, The Who, Weather Report, Frank Zappa, and The Mahavishnu Orchestra.
Even as a youth, Rodney was fascinated with film scores and soundtracks , and he would also go on to discover early Hip Hop pioneers such as Grand Master Flash and The Furious Five. The list goes on and on. As far as he was concerned, all of this music simply represented different branches from the same tree. This philosophy would stay with him well into adulthood.
By the time Rodney graduated from high school in Hartsdale, N.Y. just outside of New York City, he had chosen music over illustrating and painting. His appreciation for art would never disappear, but he knew that he had to focus on learning his craft. Rodney decided to do as much studying on his own as he possibly could. Along with going through Gary Chaffee's Metric Modulation books, he would also study some very basic and important books like George Stone's Accents and Rebounds and Stick Control. Again, the list goes on and on. His explorations would include delving into Jazz, and African and Afro Cuban music while playing in clubs around New York. Rodney found himself working with an extremely diverse group of musicians. The Rock bands that he played with didn't know about his Jazz background, and the Jazz musicians didn't know about his Rock and more contemporary playing. Understanding the pitfalls of being narrowly defined, he kept that secret for as long as he could.
Around this time, Rodney's talent soon caught the attention of pianist, keyboardist, composer, professor and musical visionary Clyde Criner. Dr. Criner took Rodney under his wing and put together a group featuring the young drummer. The group recorded two albums on RCA/Novus before Dr. Criner's untimely death. Dr. Criner left an incredible impression on Rodney both musically and personally.
Not long after Dr. Criner's passing, Rodney got the call to take over the drum chair for Joe Zawinul's band, The Zawinul Syndicate. After almost two years of touring with the Syndicate, Rodney decided that it was time to leave the band. He soon got a call from Carlos Santana who had known about Rodney through Clyde Criner and the two had talked about playing together at some point. It wasn't long afterwards that Rodney received an invitation to join the Santana Band for the Santana-Bob Dylan Tour later that summer. Rodney toured with the Santana Band through the end of that year, and credits the experience for giving him a greater perspective on performing in Rock venues and to much larger audiences. It also gave him a different and better understanding of the Rock and pop industry.
However, Rodney had other offers in the Jazz arena. He was called to record and tour with the legendary Brecker Brothers, performing on their 1994 Grammy winning album Out Of The Loop and on the Grammy winning song "African Skies". From that point on, he toured extensively with the Brecker Brothers for two years, and It was during this period that Rodney was exposed to dance clubs around the world. He was discovering different DJs and artists who were creating more electronic-based music. These experiences struck a chord, and would later have a profound influence on how he would hear and write music.
Rodney also went on to perform with Steps Ahead, the incredible Wayne Shorter, and many other artists before being called again to join the Santana Band in 1997. During this second stint with Santana (1997-2000), Rodney would go into the studio with the band to work on the Supernatural album. He laid down the drum tracks on the mega hit single "Smooth" with Rob Thomas. He also worked with The Dust Brothers while tracking drums for Eagle Eye Cherry's "Wishing It Was". This would lead to two more years of touring around the world with Santana supporting the record, as well as winning nine Grammys for his participation on the album. Rodney would later record a Christmas single with Rob Thomas afterwards. Looking back on the experience of having been such an integral part of Santana, a band that gained worldwide recognition and acclaim during his tenure, Rodney credits this experience with providing him exposure to millions of music lovers around the world, so many of whom became Rodney Holmes fans as a result.
At this time, Rodney was becoming more and more interested in Drum n Bass, Down Tempo or Trip Hop, Ambient, Trance, and different variations of Techno, Industrial and electronic music during his travels. It was also during this time that he started writing songs for what would eventually be his first solo album.
In 2001, Rodney was asked to do a three-week tour with guitarist Steve Kimock. While initially asked to do one tour, they both realized that there was an unmistakable chemistry. After that tour, Steve asked Rodney to become a member of the band as well as a creative partner. The two would delve into writing new music for the project, and things started to take off. (At this time, Rodney had already started pre production for his own Twelve Months Of October).
Rodney was introduced to Rock guitarist Jim Weider at one of SKBs concerts. Fascinated by Rodney's intricate and dynamic approach to playing Rock music, Jim called Rodney to play on his album Percolator. That proved to be such a great experience, that it eventually lead to them touring together in Jim's group and the recording of a second CD.
The Steve Kimock Band would eventually go into the studio and record Eudemonic. After five years of touring and developing a sound, the band broke up in 2005.
Rodney is also now a creative force in Jim Weider's Percolator Project and they continue to write original music for a forthcoming album. But Rodney's own project was proving to be more of a challenge to get up and running. Building this project from scratch while writing and touring with other people was very difficult. But things have finally started to take shape.
If there is a thread of continuity that seems to underscore the career of Rodney Holmes, it is probably his unmistakable willingness and eagerness to take chances, to take on new challenges, and to explore not only the music but his ability to express it in his musical language. Throughout his dynamic and ever-evolving career, he has defied all efforts to pigeonhole and categorize him as a jazz drummer, a rock drummer, a fusion drummer, etc and has made it altogether clear that Rodney Holmes- drummer, composer, bandleader- is simply a creative musician who enhances any musical setting he engages. When his schedule allows, Rodney conducts drum clinics and demonstrations just about anywhere in the world, and his articulate, witty, and insightful presentations have served to enhance his popularity not only among fellow drummers but also with music lovers of virtually any genre.
Rodney is now also involved with several dynamic and exciting projects that reflect who he is as an artist at this point and time. Bending and blending genres and shattering convention through his playing and writing seems to be what Rodney was put here to do. With his roots planted firmly in the past, and with a clear sense and feel for the present, Rodney enthusiastically looks forward into the future. But he is definitely here now. And if you are able to catch him with his new band, with "Project Percolator", "Randy Brecker Group" or with whomever he's performing with, don't miss the opportunity. Because it's a rare treat to experience a genuine artist, a true musical force, and a guaranteed source of inspiration.